5 New Flood Prevention Products
1,000+ Manufactured Products
From Idea to Prototype in as Little as Six Weeks!
Floods are becoming more common around the world. What was once a 100-year phenomenon is now a seasonal trend that homeowners must deal with.
The main solution deployed to fight these rising water is sandbags – 1000's upon 1000's of sandbags made from burlap or polypropylene. But is this the most effective method? As product designers,  we began thinking about the challenges of floods and exploring other product solutions already on the market. See what we found below:
1) Water Gate: Rapid Response Flood Control System

Water gate is a clever PVC device that uses the pressure of oncoming water to stabilize itself. While more expensive than sandbags, it has been proven to be a highly effective means of containing flood damage. A single person can deploy the product in a few hours to protect a home, or larger devices can be purchased to protect entire areas and unrolled trucks.
The product is lighter than sandbags, reusable and doesn't require filler material that will be contaminated after use.


2) WIPP: Water Inflated Property Protector
The "Water Inflated Property Barrier" (WIPP) made from a long (up to 150 ft.), extremely durable, vinyl-coated polyester. The idea is to fight water with water, and WIPP does just that; essentially a long tube with an internal support structure, the system can be inflated with any nearby water source, acting as a heavy barrier against oncoming waters.
Like other systems, WIPP can be easily and quickly deployed, repaired and packed away compactly when not in use. 
3) Quick Dam: Flood Barrier Socks
Quick Dams – water barrier socks are the fastest growing flood protection device in North America. Over the past year Quick Dam's distribution has grown to include all major home renovation retailers (ie. Home Depot, Lowes, Rona) as well as a large Amazon store stocked with product variations.
The Quick Dam flood barriers are available in 5ft, 10ft and 17ft long pieces, suitable for all types of environments. And based on reviews so far, the product is doing a good job of keep homeowners property dry in the wake of rising flood waters.
4) Floodblock: Modular Flood Prevention Solution
FloodBlock is another Lego-like invention that can be interlocked, stacked and positioned to protect homes and commercial spaces from flooding. The device is a self-filling crate with foam padding on the bottom creating a seal which prevents water seeping from underneath. The stacking feature ensures a minimal footprint when stored away. The simplicity of the system and its light weight means that no special training is required to assemble – and it's a high quality, affordable solution that's more effective than sandbags.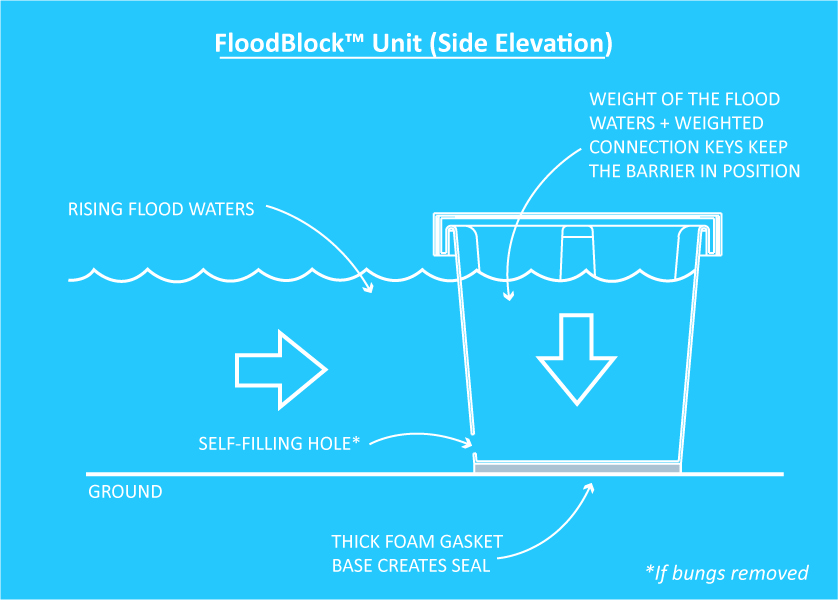 5) Aquobex: Heritage Floodguard system
Aquobex is a global leader in fighting flood waters and offers a variety of flood devices to help both homeowners and cities deal with rising water. There Hertiage Floodguard is one of their most popular devices and the often the first line of defense to prevent entering doors and windows.
The lightweight reusable barrier provides the same protection as a permanent barrier and has helped 1000's of homeowners stop water in in it's tracks.
We can help take you from idea to design, prototyping, and volume manufacturing.