How to Design a Product for Manufacturing
1,000+ Manufactured Products
From Idea to Prototype in as Little as Six Weeks!

Full Case Study Showing Step-By-Step Process

Start-ups and E-commerce entrepreneurs are developing custom products to meet niche customer demand. This allows them to control quality, features, and most importantly, margins!
The challenge is getting ideas into manufacture-ready designs, building out a supply chain and ramping up volume production with consistent quality.
Discover the process one entrepreneur went through to manufacture his proof-of-concept prototype idea for a mass market.
Intro: Meet Lily Chillers Founder, John
Meet John, a digital nomad, e-commerce entrepreneur and Founder of Lily Chillers. John knows his way around the internet, B2C sales and Amazon. He is an idea man who is always thinking of solutions to problems. When his swimming pool got so hot baking in the sweltering Texas sun, he began looking for solutions online.
Not finding any suitable solutions to keep his pool cool, (existing insulation blankets and heat pump systems cost thousands of dollars), he began developing his own solution by replicating the function of a standard car shade.
By testing out different materials, John eventually created a proof-of-concept prototype that worked. His pool was staying 10 degrees cooler than without the pad. A win! The next step was manufacturing. This is where John got stuck.
Problem: How to Manufacture an Idea?
With a proof-of-concept prototype in hand, John began researching how to manufacture his product. His research gave him more questions than answers.
Who would supply the material?
What about packaging?
Who will do the engineering sun calculations to select a suitable weather-resistant material with good sun reflective properties?
How much would it cost to manufacture his prototype in high volume?
Stuck, John began researching factories that manufacture products in China.
Finding a Manufacturer to Make Product
In typical entrepreneur fashion, John took his early-stage design as well as photos of his prototype and began reaching out to manufacturers via websites like Alibaba. He found manufacturers were more than willing to help.
The trouble came when they found out John was a one-man-operation with a big idea, a soggy prototype, and no manufacture-ready design files. John discovered three major issues with trying to source a manufacturer:
Language Barrier: Factories that looked like a perfect fit for his product had a very difficult time communicating in English. He could not get straight answers.
Have a Production-Ready Prototype: John knew some design tweaks were needed to his prototype to ensure it did not blow away or sink, but factories only wanted to make the product in volume from a finished design with drawings. Working with the supplier directly to figure out what had to change felt like too big a risk to take.
Cost: The upfront costs to manufacture a low-volume run of his idea exceeded his budget, and they would not guarantee the quality of the product upfront.
After several months of struggling to find a manufacturer to make his idea, he conceded and began searching for help to get his idea ready to manufacture.
"I tried to contact China myself, but as soon as they found out I was a one-man operation, I got nowhere. This happened several times. I was stuck"

John, Founder of Lily Chillers
Moving past the manufacturing roadblock, John began looking for companies that could help. He began searching Google for companies that would "take my idea to manufacturing" and "manufacture my product". The results pulled up several invention designs houses that John did not get a good feeling from. The NDA's included terms that would sign-off his ideas and IP rights.  Outcome guarantees, 
development process
, design fees, and pricing structure also seemed to have holes. John began expanding his search to include "product design firms" and 
"product development companies"
. He found several companies that used a 'service-for-hire', model where he would retain full ownership of his idea and any further IP developed. After initial calls with several firms, the Design 1st team stood out from the pack for several reasons:
Proven track record of success, with many successful projects to reference that are selling in the market including Tablo TV, Stanley, QNX, Ericsson, Fortinet
The opportunity to interactively work remote with the design team, to learn from their expertise, and visit China with a Design 1st expert having 25 years' experience working in Asia
They provided a clear product development process on how to take John's idea, a proof-of-concept prototype and modify the design for manufacturing
Decades of 'remote working' tools and process made it easy to participate in design discussions to make critical cost and marketing decisions
An extensive supplier network for common parts, custom parts, custom materials, prototyping and manufacturers that build the custom products
"I initally narrowed down my search to 5 design firms and then I had a really good chat with Ian Kayser at Design 1st, followed by a call with Design 1st Senior Industrial Designer Chris. It felt right." John, Founder of Lily Chillers
Solution: Hiring a Design Company With a Large Manufacturer Network
Once John engaged Design 1st, progress began to happen quickly. A project schedule was built, a kick-off meeting was set up and a development team leader with experience in soft-insulated goods was chosen to guide the project.
Step 1: Project Kick-Off Meeting
The first activity was a kick-off meeting. The purpose was for John to meet the team and share the knowledge he gained while he was testing his product solution over 18 months. These inputs would help identify the key risks, challenges, and set the product requirements to develop the best solution.
The Design 1st senior team members included:
Chris – Senior Product Designer, a soft-goods expert who has extensive experience working with fabric, insulation, and heat-sealing manufacturing processes
Dave – VP Manufacturing, he oversees the supply chain, manufacturing set up and sourcing of parts, materials and final assembly suppliers
Allan – VP Analytics, the resident data-cruncher who helps clients identify potential market size, competitor intelligence, and pricing strategies using online research and surveys to inform the design team on key product features
Output:
Step 1 delivered a product development schedule and rough timelines for key activities.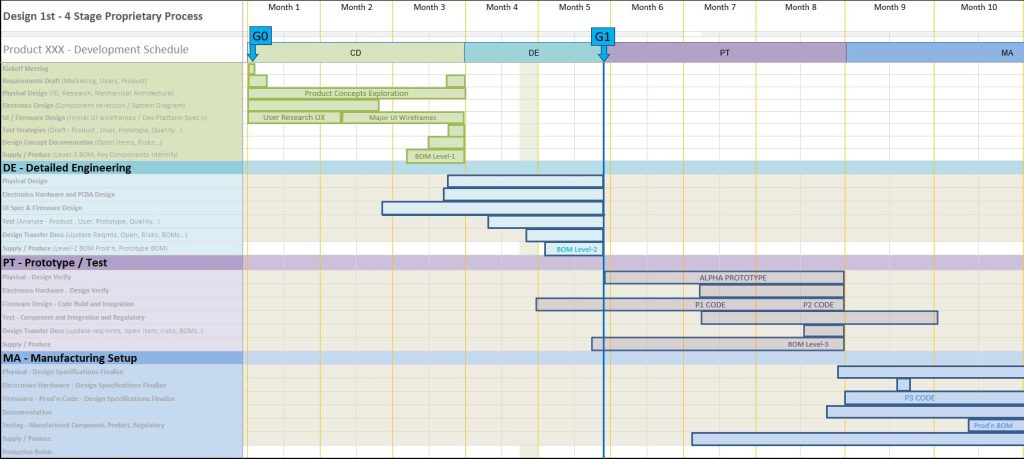 Step 2: Product Concept Investigation
Before diving into product development, John opted to engage the marketing team at Design 1st for an investigation analysis of his product concept. This goal was to understand the existing market landscape including:
Market Size: How big was the potential consumer market for pool cooling devices? What was the monthly search query volume for these devices?
Patent Landscape: Which patents covered competitor devices selling in the marketplace now? What were the relevant patent classifications covering similar devices?
Competitive Intelligence: What key features did comparative and competitor products have? Which materials did they use? Were there any design issues with existing products?
Supply Chain: Who was manufacturing competitive products? What was the distribution strategy? What was the manufacturing cost of existing products?
The output was a 30-page report that revealed a promising market for the product concept. Over 2.6M residential pools in hot US climates and few direct competitors to meet demand. Google trends data revealed the exact states searching for 'cool swimming pool' devices:
The report also included a 'Competitor Product Feature Matrix'. Valuable inputs that would help accelerate the product development process by identifying the materials, pricing, features, size, and distribution model of existing products.
The key takeaway was John's new product concept had a solid opportunity to penetrate the existing market that had a mix of disappointing quality and high pricing. The plan was to deliver a return-on-investment to cover the product development costs in under a year, based on projected sales volume.
Step 3: Product Requirement Research
The Design 1st team took the inputs from the kick-off meeting and product concept investigation to begin exploring manufacturable concepts. This step involved diving into the target use cases, customer needs, and product configuration options. This included researching why the comparative product for heating pools (inflatable solar rings) had so many negative reviews and manufacturing issues.
Defined Key Product Requirements and Risks including:
Keep pool 10 degrees cooler vs. No Product
Does not blow away
Fit into standard shipping boxes
Pool-Chemical Safe Materials. Corrosive effect of chlorine, bromine, salt, and UV light
Product Configurations: thermal sheets, custom materials, heat sealing inflatable, moulded parts
Sizes and material configurations of the product- how many units will cover a standard pool?
Cooling Methods: Radiant, air gap, or combination
Output:
Step 3 solidified the critical targets and product requirements in a document for future reference to use as a trade-off tool during the product concept evaluations.
Step 4: Manufacturable Design Concepts
The fun part in every product design exercise is dreaming up new manufacturable design concepts and turning them into functional designs. For the pool cooler, this meant synthesizing all the product requirements, the unpredictability of outdoor environments and corrosive pool chemical attack on materials.
Chris led this exercise leaning on his decade of soft good and insulated product design experience to develop product concepts that would work. The first step was defining potential product concept directions.
Exploring Multiple Design Concepts
The Design 1st team went to work exploring materials, manufacturing processes and cost-effective, shippable product concepts that would keep pools cool. The result was 8 manufacturable design concepts ready for review.
These included:
Inflatable Devices
Foam with Reflective Inserts
Hot Tub Covers
Die Cut Puzzle Piece Foam
Floating Sunshades
Upside Down Umbrellas
Flexible Reflective Light Shades
Single Shot Molded Parts
Each of the 8 manufacturable concepts was reviewed with the client using a simple rating process based on the targets and requirements that were given different priority weighting based on the business strategy.
A variant of the winning concept is shown in the images below with various visual looks. The concept was based on a collapsible car shade concept with design features to ensure it would not sink or blow away.
Output:
A selected concept reviewed from a user and business perspective, ready for detailed engineering and manufacturer DFM review.
Step 5: Prototype & Testing
Once a design concept was chosen, full size 3D CAD geometry design files were created.  Dave, the Design 1st Manufacturing lead went to work sourcing the best material suppliers and heat-sealing manufacturing facilities for volume production. Constant communication via text chat and overnight file delivery made the process from a well-documented idea to a prototype go lighting fast even with brand new suppliers.
After vetted factories reviewed files, each agreed to make a custom heat-sealing tool to build prototype samples of the product. The goal was to test and validate the suppliers and a range of materials to choose the best solution that met quality and cost requirements.
"We brought in Dave, and in two weeks we had a prototype from China"

– John, Founder of Lily Chillers
Alpha Prototype Testing
Five sample prototype products arrived at Design 1st. They were inspected and catalogued by the design team before being sent to John in Texas for design validation and pool testing.
Over the course of a month, John and the design team worked on iterating the design to fine tune the performance. This included adding more small drain holes to keep the product buoyant, as well as selecting a 3-stage valve allowing for easy inflation and deflation.  First prototype images are shown here.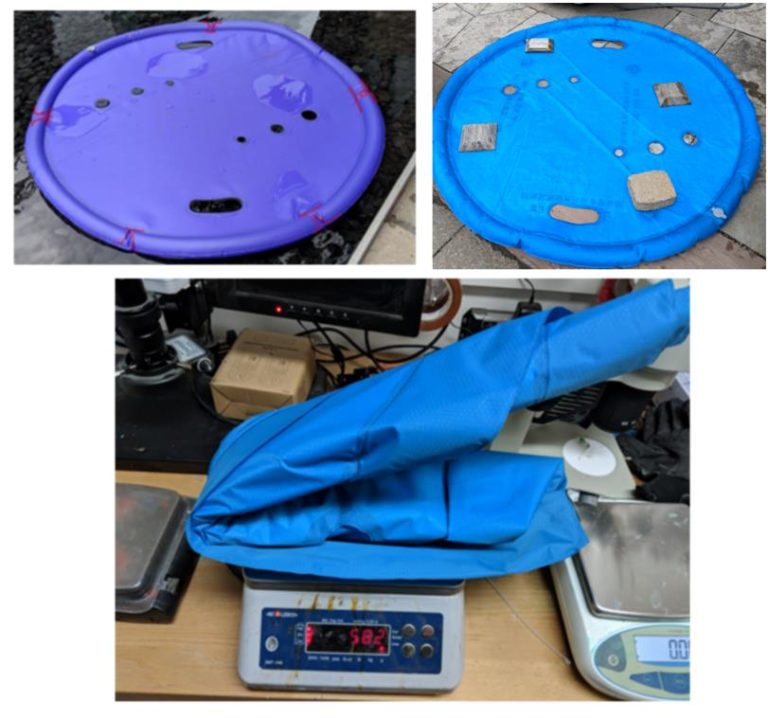 Design 1st discovered two of the top-performing prototypes used materials at significantly different cost points. Working with the design team, a final decision on the material was made and John was ready to move forward to mass-producing the product.
Output:
Material Samples and 5 Prototypes of different materials were sent to client for validation and testing in real use conditions.
Step 6: Manufacturing Set Up and Factory Visit
John now had a manufacturable-design ready for volume production and was excited to be in the final stage of product development – manufacturer setup.
Factory Visit to China
Before ramping up production, Lily Chillers founder John took the opportunity to travel to China with Design 1st and meet his key suppliers and factories in person.
The 4-day visit included touring multiple factories, inspecting the production process, and building relationships with the overseas supply chain team under the guidance of Dave. The outcome was a massive learning experience for John and the ability to order, inspect, and schedule delivery of products independently. Dave would only be called in if issues arose.
"Visiting China with Design 1st was one of the best learning experiences of my life. I now understand how to quickly go from a product idea to a WOW solution with reliable high-quality volume production!"

– John, Founder of Lily Chillers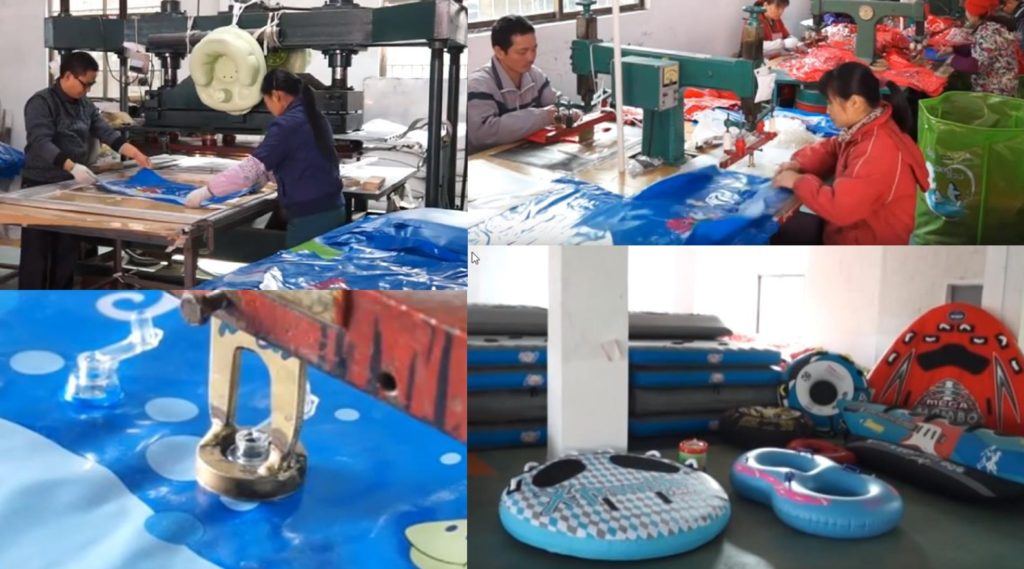 Manufacturing Setup
After inspecting the manufacturing process and seeing the custom heat-sealing tool in person, John signed off on the first volume production run of his product. While waiting for the first shipment John began building out his website www.lilychillers.com and marketing engine targeting the 2.6M+ pool owners who live in hot USA climates.
Output:
A reliable predictable product design with a qualified manufacturer, an order and shipment process, schedule lead time understanding and product specifications for the manufacturer that are 100% owned by John enabling the manufacturer to produce the product under license.
Results: Volume Production
The first volume production run of John's idea arrived in Texas – 5000 Lily Chillers, quality inspected, packaged and ready for sale. To start out, John repurposed his garage into a distribution warehouse and got the product ready to ship. The next step was ramping up business operations, turning on the sales and marketing engine and preparing to engage the target market.
E-Commerce Sales and Marketing
John's experience in business operations, e-commerce and marketing came in handy. A simple e-commerce website was setup and John began targeting pool owners via Facebook. Using an authentic video pitch showcasing the product and the value proposition, John began driving sales and generating positive reviews from consumers.
The result? The first 5000 Lily Chillers were sold, and it was time to restock and scale operations. View John's original sales video below:
Ongoing Manufacturing Support
As Lily Chiller's sales volume continues to increase, Design 1st in-house manufacturing support team will provide part-time virtual support to John for ongoing manufacturing coordination until John is ready to take on the full supply operations role.
Effective interaction with remote suppliers is critical to schedule product supply to meet consumer demand. Ongoing activities involve design refinements, tracking manufacturing quality, shipping logistics coordination, contracts, and writing exact information on purchase orders.
Support in coordinating these activities without mistakes ensures Lily Chillers can successfully move products from the factory floor to customers without a hiccup.
Year 1 of Sales:
First-year of sales and everything is moving predictably, the first 5000 units are sold and the next order is in process.  The investment in a product design team has proven to be exactly the right way to get predictable high-quality products delivered to a national 3PL warehouse. The result is a low touch online ordering and the lowest cost delivery to consumers.
The enthusiastic customer reactions are giving John a shot at a successful business operation and massive growth in Year 2 with new product ideas to add to the sales.
The Learning:
R&D and product design is a one-time event involving hundreds of critical decisions. Using specialists you can trust is a fast and low-risk way to take the product development risk out of creating a new start-up business.
We can help take you from idea to design, prototyping, and volume manufacturing.