Six Design 1st Clients Win Product Design Awards in 2022
1,000+ Manufactured Products
From Idea to Prototype in as Little as Six Weeks!
Design 1st is celebrating the success of our clients in capturing industry recognition through winning multiple awards in 2022.

 
September 29, 2022 – Design 1st, one of the most trusted full-service product design-engineering firms across North America, is excited to share the success of six of our new clients for receiving industry recognition on the launch of new products in 2022.
The industry awards and prestigious design accolades include the A'Design, European Product Design, Grand Prix Du Design, InfoComm and SCN AV Product awards.  The awards mark a new record for Design 1st, with six unique clients receiving product awards in 2022.
Explore the Winning Produts Below
The SUPStick is the ultimate land paddle that features patented Impact Reduction Technology™ (IRT) that allows users to seamlessly transition from on-water training to the roads, streets and sidewalks. With a unidirectional wheel, carbon fiber spring and aluminum swing-arm, this land paddle truly gives you the feeling that you're paddling on the water. The SUPStick is designed to be both durable and lightweight.
The Design 1st mechanical design team worked with Joel Brennan, the inventor of SUPstick, to transform his vision for a land paddle into a manufacturable product ready for market!
Calibre is a wearable, real-time fitness metabolic tracker that measures breath flow and caloric burn of carbohydrates vs. fats, and oxygen uptake and other respiratory parameters. The data influences how daily routines and exercise affect the body and respiratory system.
Using the proven science of breath calorimetry, a unique design and the most accurate lab-grade sensors available, Calibre™ empowers you to take charge of your metabolism. The accompanying APP allows users to compare data between sessions to see how metabolic state is impacted by sleep, nutrition and stress.
Arc was inspired by the need for a locker-based, expandable device management kiosk with intelligent software that can track, secure, and manage devices for employees.
The intelligent mobile device management system in one centralized kiosk to help companies manage and charge handheld mobile devices. Modular to support device growth, the heavy-gauge steel lockers keep devices safe and unauthorized users out. A 17 inch touchscreen facilitates employee self-service, and a wide-lens security camera and RFID enforce user compliance.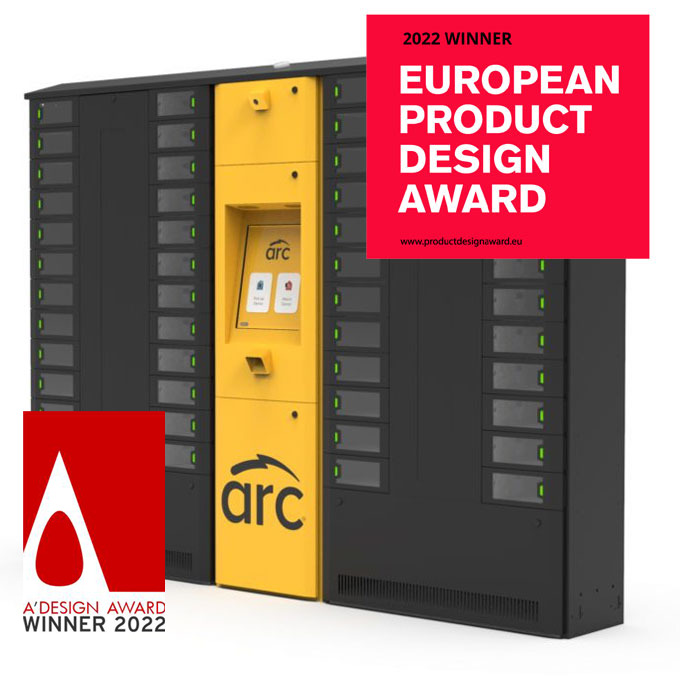 The 1st ever 2-in-1 toothbrush + toothpaste that is reusable (30x) for use on-the-go. FunkkOFF! TeethRefreshers® is an elegant design for easy use – just twist the bottom, brush, rinse, and smile. Compact and reusable by design, FunkkOFF! TeethRefreshers® includes a proprietary tooth gel that was formulated to be 100% natural, chemical-free, SLS-Free, Fluoride-Free, BPA-Free, Gluten-Free, and Vegan.
Plus, with a clever mirror on the bottom, FunkkOFF! TeethRefreshers® is your beauty accessory for your smile when you're on the go.
Pearl Nano™ is a perfect fit for small-scale events as a dedicated video streamer and recorder. The device is the second product Design 1st has designed Epiphan, the first product called the Pearl, was a larger version with a brush metal design to be used along side a professional AV recording setup.
The Pearl Nano allows anyone to professional record and stream and even in real-time. The built-in front screen of the Nano offers quick access to basic configuration while you are streaming and recording, while the connection to the Epiphan Cloud gives you professional video production capabilities.
The Telescoping Kayak is a first-of-its-kind collapsible water vessel (commonly known as a kayak or canoe), easy to transport and store. Custom designed for the water enthusiast with components that make it simple for users to collapse and carry, the Kayak revolutionizes the transport and storage process of personal water vessels without impacting functional and aesthetic quality. Kayak is currently a production-intent prototype that is attracting investors and fueling interest from industry leaders.
The Design 1st team worked with the client Rhys Kirk, to transform his vision into a production-ready product that balanced cost of manufacturing, waterproofing, ease of carrying and paddling the comfort.
Additional Resources
About Design 1st
Design 1st is one of the most trusted full-service product design firms across North America, with a seasoned team consisting of diverse technical expertise, over 1,000 projects developed, and 130 client patents secured. From Startup to Enterprise, we enable companies to quickly scale capabilities throughout their new product development programs by leveraging our core competencies in industrial design, mechanical engineering, electronics engineering, embedded firmware, and manufacturing setup. Design 1st's plug-in experienced team has helped clients transform their physical ideas into commercialized hardware products across a variety of industries and influenced millions of people globally. To learn more, visit www.design1st.com.
Media Contact:
Joan Highet
jhighet@design1st.com
We can help take you from idea to design, prototyping, and volume manufacturing.