ING Robotic Aviation Read for Takeoff
1,000+ Manufactured Products
From Idea to Prototype in as Little as Six Weeks!
What happens when you combine robotics, airplanes and a dash of aesthetic mechanical innovation?
Well, with the right team and experience you may end up re-inventing aviation with unmanned aircraft that deliver airborne sensing solutions in the fields of surveying, environmental monitoring, and critical infrastructure inspecting.
ING Robotic Aviation is a Design 1st client whose disruptive aviation technology is shaking up industries and forcing operational change across the globe. The company has found the right mix of innovation, sensing solutions and aesthetic design that has allowed them to put the right information, into the right hands, at the right time. ING's fixed-wing "Serenity" Unmanned Aerial Vehicle (UAV) aircraft was recently purchased by IFMS, a Chilean company to help fight forest fires. While ING's rotary-wing, "Responder" UAV was purchased last week by a client for surveillance operations in East Africa.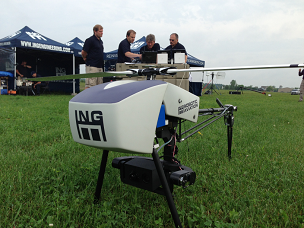 To find out more about ING Robotic Aviation and how their technology is being used in multiple industries across the globe, checkout their webpage at www.ingrobotic.com.
We can help take you from idea to design, prototyping, and volume manufacturing.