Top 27 Innovative Face Mask Designs
1,000+ Manufactured Products
From Idea to Prototype in as Little as Six Weeks!
The hottest new hardware product trend of 2022? Face Mask Innovation
Entrepreneurs, Startups, and enterprises across the globe and pouring resources into the development of new innovative masks.
The strong global demand for face protection has accelerated development efforts, the result is dozens of new masks on the market.
Whether you want to display a message, or even a cute pixelated character, it's all up to you. The mask can even respond to music or the sound of your voice with equalizer effects. Electronics are removable for cleaning and sanitation. The tech components can be removed for normal wear and better air circulation.
Leaf is the world's first transparent n99+ HEPA filter mask with UV-C self sterilisation. Secured by the most capable yet easy to breathe HEPA filters rated at N99+, MERV20+. The HEPA filter with 25 pleats, fits in a chin size cartridge while carrying 5X the surface of the entire mask allowing ease of breathing that is off the charts.
The Livinguard mask can be washed up to 30 times with undiminished efficacy of its protective properties. If used daily and washed weekly under normal usage conditions, the mask can be used 210 times. The mask can be reused multiple times before washing because the fabric covering the filter media continuously destroys microorganisms.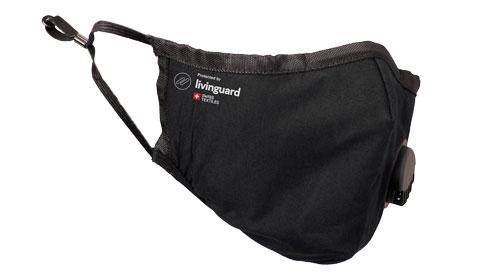 When you wear the AirZ Reusable Mask, you can control how fast air flows through it. In fact, this reusable mask offers three different active airflow speeds. AirZ has a built-in Wind Wheel Module to provide enough airflow based on your different demands. AirZ supports quick charge, where a 2-hour charge can provide around 5 hours of continuous use.
Airwheel F3 Smart electric air mask in unique ventilation design,built-in air motor which is Motor drives wheel on wind cavity to suck air and breathe gas, excellent permeability, can realize two-stall adjustment and produce air with high efficiency and actively deliver fresh air.
6. Delta Plus M6100 Jupiter One Filter Reusable Half Face Mask Respirator
These reusable face masks are manufactured from tri-material for ultimate wearer comfort, with the mask body being made from Thermo-plastic Elastomer (TPE), the cartridge anchorage from polyethylene HD (HDPE) and the valves protective housing from polyp­ro­pylene (PP).
7. Huami Amazfit Aeri Mask
N95 mask that doesn't interfere with face unlock on smartphones because it will be made of an anti-fog material, making it easier to unlock your phone via Face ID. The mask will also have built-in ultraviolet lights for self-disinfection. The mask also uses removable air-filters that can last for six weeks.
8. Breathable IceChill 2.0 Mask
Breathable IceChill 2.0 Mask uses an innovative light weight material. It uses patented technology commonly used in sport apparels for lowering temperature. This is a mask you can Jog in. This washable mask can last more than 50 machine wash cycles.
9. PM2.5 Dust Mask Smart Electric Fan Mask Anti-Pollution Breathable Outdoor Mask
Smart electric air mask, with unique ventilation design, built-in air motor which is Motor drives wheel on wind cavity to suck air and breathe gas will exhaust from bottom outler, excellent permeability, can realize two-stall adjustment, and produce air with high effectivity and actively deliver fresh air.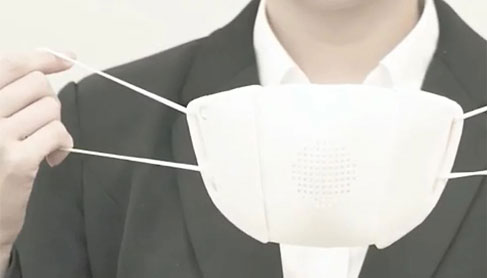 10) Donut Robotics: C-MASK
The c-mask is made of soft plastic material. It contains a built-in microphone and has holes in the front to let air in. When it is turned on, the mask uses Bluetooth technology to connect to a mobile device. The spoken words are displayed as texts on the smartphone screen. The spoken words can be translated to 8 languages.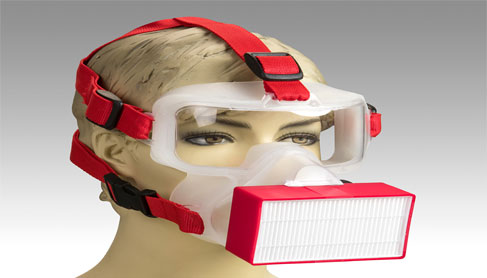 ViriMASK filters retain inhaled & exhaled particles and microbes larger than 0.1 micron (like COVID-19). That protects the wearer and the environment. Such filter retention – and the fact that ViriMASK does not have an exhalation valve – prevents the spread of infection back into the environment.
12) The NanoHack 3D-printed mask
Copper and Nano Copper inhibits the replication and propagation abilities of SARS- CoV4, influenza5 and other respiratory viruses, having a high antimicrobial (antiviral and antibacterial) potential and, as Copper can inactivate viruses .
The O2 Nano Mask sports a refreshingly minimalist design with a focus on comfort. … The machine-washable O2 Nano Mask skin comes with three recyclable and replaceable filters that last up to 60 hours each, depending on air quality conditions.
B2 Mask's ergonomic design is made of FDA-compliant materials that conform to your face to provide a comfortable and protective seal. It was voted best face mask invention of 2020 by Time Magazine.
The Urban Air Mask 2.0 introduces a whole new level of protection, breathability, and design. By combining cutting-edge filter technology with timeless Scandinavian design, the Urban Air Mask 2.0 offers an outstanding performance and comfort to combat harmful particles in the air. 
The caps of the AIR Premium are replaced by two mini electric silent fans increasing the breathability inside the mask. One of the fans increase the volume of air inside the mask, the other increase the extraction of the air outside the mask.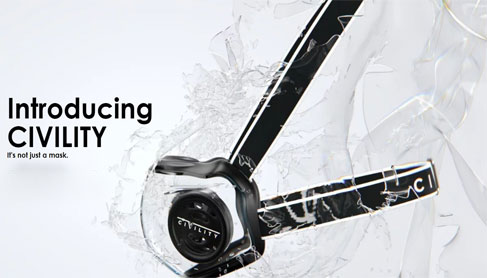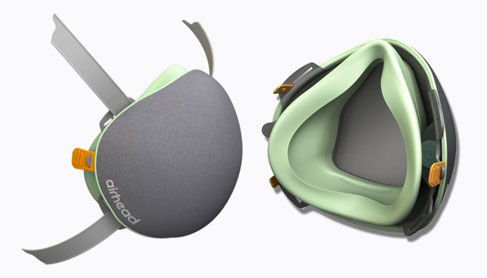 It's designed to fit your face perfectly, with an airtight seal so that no dirty air can leak through the sides. The highest quality medical grade silicone makes the mask feel incredibly soft and cool on your face. Then there's the filtration technology.
Multimask integrates two features into oneand opens up endless possibilities for attaching other functional accessories, also making it "Future Ready".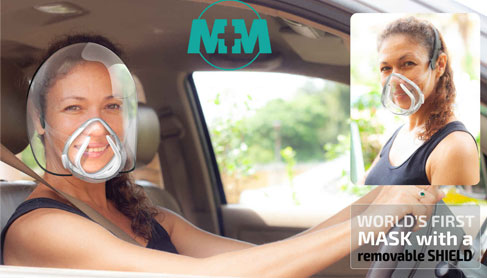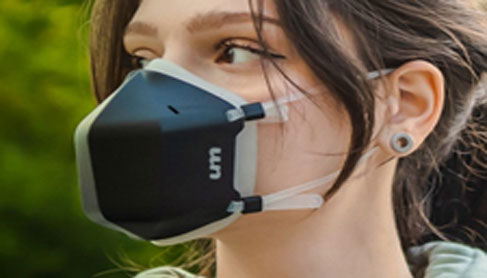 The UV Mask equipped with UV-C purification is an antiviral, anti-pollution face mask that filters dust, pathogens, and allergens (like pollen & leaf mulch) from the air you breathe.
20) Reusable Face Mask 2.0
This breathable face shield is made with medical-grade, FDA and LFGB approved silicone. Fitted with a filter, your mask will help fight the spread of COVID-19. Each kit comes packaged with five filters; you can purchase additional filters from us here, or use your own filter supply.
21) North Republic Reusable 6 Layer Bluetooth Smart Mask
Detachable Bluetooth Headset: The Mask has inbuilt & removable Bluetooth earphones with Mic. To listen to music, make phone calls, and be unique!
22) Gendax Bone Conduction Wireless Bluetooth 4.0 Headphones Anti Pollution Mask
Built-in Headphone and Free Your Hands: Wireless bone conduction headphone ensures handsfree calling / answering and music listening in driving, riding.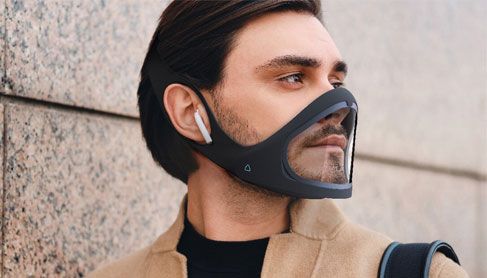 The transparent protective screen allows people, such as those with hearing difficulties, to better understand and to immediately grasp any dangerous information.
24) Reusable Protective Face Mask
The disinfection process occurs when a layer of carbon fibers in the mask is heated using a low current source, such as an electric mobile phone charger. A patent application for this invention has been submitted in the United States.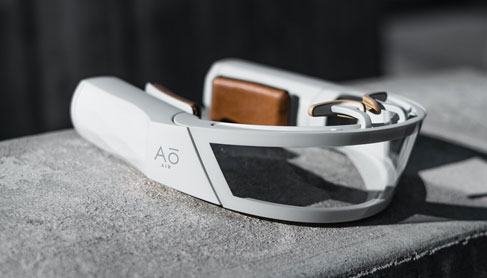 A patent protected no seal solution which is up to 50 times better than market leading sports air filtration masks at stopping particulate matter being inhaled. Connected with phone and can tell you when you need protection.
26) LG - PuriCare Wearable Air Purifier
LG's PuriCare is a smart wearable face mask with three internal fans that purifies the air as you breath. The mask includes dispoable H13 HEPA filters a respiratory sensor that detects and adjusts air flow dynamically.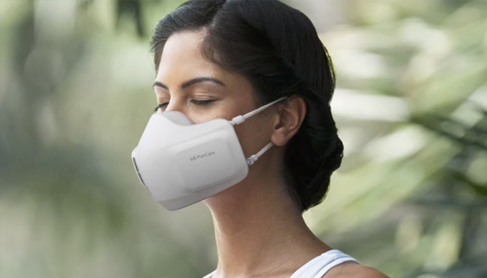 Have a new face mask innovation idea?
We can help take you from idea to design, prototyping, and volume manufacturing.